Gerhard Richter

Panorama
From 6 June to 24 September 2012, Gallery 1, level 6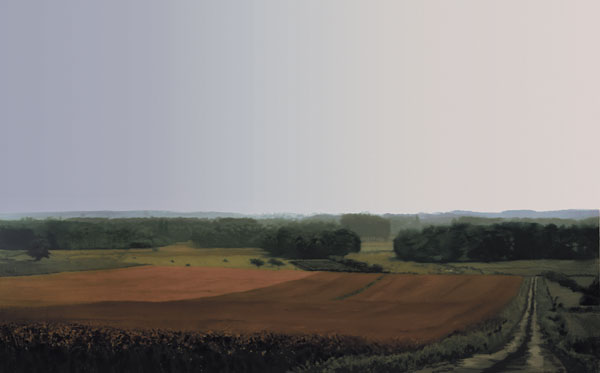 ---
Chinon (CR 645), 1987
Oil on canvas, 200 x 320 cm
Musée national d'art moderne, Centre Pompidou, Paris
PANORAMA – A CHRONOLOGICAL EXHIBITION
The French public discovered the work of Gerhard Richter with the retrospective organised by the brand new Centre Georges Pompidou in 1977, then rediscovered it in 1981 in the exhibition German Art Today, curated by Suzanne Pagé, at the Musée d'art moderne de la Ville de Paris. Since the major retrospective Forty Years of Painting at the New York Museum of Modern Art in 2002, there have been numerous thematic exhibitions devoted to Richter, but none of them demonstrate one of the aspects of his work that distinguishes it from that of so many other contemporary artists: his simultaneous use of different visual languages, from the abstract to the figurative.
In honour of Gerhard Richter's 80th birthday, three European museums – represented by the curators Mark Godfrey and Nicholas Serota for the Tate Modern in London, Dorothée Brill and Udo Kittelmann for the Nationalgalerie in Berlin, and Camille Morineau for the Centre Pompidou in Paris – have endeavoured to create a panorama of his work by collaborating closely with the artist. In Paris, rooms containing intimate and political works, as well as abstract works, are structured around a central space devoted to works in glass, mirrors and grey monochromes.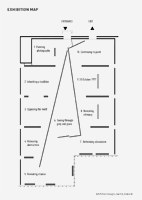 Gerhard Richter – Panorama. Exhibition map
Exhibition design: Jasmin Oezcebi
Download exhibition map (PDF, 95ko)
THE SIXTIES
MOVING TO THE WEST
In 1961, just before the construction of the Wall, Gerhard Richter and his wife Marianne (Ema) left Dresden and escaped to the West by taking the Berlin metro. To begin with, they stayed in a transit camp in Göttingen – a mandatory stage for GDR refugees – then they moved temporarily to Oldenburg, close to Ema's parents, before settling in Düsseldorf.
Gerhard Richter was 30 when he decided to move to the West. A graduate of the Academy of Fine Arts in Dresden, specialising in frescos, he had already been given major commissions in the GDR. Breaking with the pictorial expression of Socialist Realism, he enjoyed a degree of financial security and had experimented with Art Informel. He had already been to the West several times: to Brussels to visit Expo 58, to Hamburg, and to the documenta in Kassel. The radical decision to cross the border – which had not yet taken symbolic shape in the Wall – meant, for him, giving up on a promising career.
He also left behind him family and friends and that atmosphere, peculiar to countries in Eastern Europe, in which artistic friendships, private discussions of art and festive gatherings put some magic back into an often drab daily life. Consequently, the move to the West was accompanied by homesickness, sadness at having lost his colleagues from the Academy of Fine Arts in Dresden, and the difficulty of forging new connections – a difficulty he ascribed to the difference in mentality between East and West.
HOMESICKNESS AND PHOTO-PAINTINGS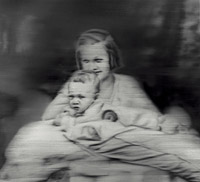 Aunt Marianne (CR 87), 1965
Oil on canvas, 100 x 115
Yageo Foundation, Taiwan
The yearning he felt for those he had left behind, as well as all those present in his family memory, was expressed in the portraits and group portraits that Richter painted between 1964 and 1966: anonymous portraits created from press cuttings which had, to his eyes, resemblances to people he knew; family portraits taken from a photograph album before his departure to the West, which would, later, be part of Atlas1: Family at the Seaside, 1964, Family in the Snow, 1966, Aunt Marianne, 1965, Uncle Rudi, 1965, and Family, 1964, showing the artist as a child with his dog Struppi.
The photographs that served as models belong to the tradition of the amateur photographer. They obey cultural norms: the people are in the centre of the image, they pose in front of something, in a group, with a pet, alone, on holiday or at a family reunion. Richter painted his figures in black and white, as in the photographs. Sometimes he added a touch of brown to the painting to evoke the sepia of old-fashioned photographs. He blurred them, creating an impression of physical, temporal or perhaps emotional distance, even if the works' titles suggested family belonging. We notice an effect of magnification, an exaggerated zoom on a past that is erasing itself inexorably, unless recalled by a photographic negative.
Looking at these early photo-paintings from the Sixties, it is notable that the blurring varies according to the subject matter. For Aunt Marianne, 1965, he used a stiff brush with still-fluid oil paint – 'so that all the elements interpenetrate' (Richter, Textes, 1999, p.30) – to mark the connections between little Gerd and his aunt. For Uncle Rudi, the horizontal streaks energise the strict, hieratic verticality of the uniformed Wehrmacht soldier.
All these people, whose portraits Richter exhibited at his first one-man show at the Friedrich und Dahlem gallery in Munich in 1964, seem to pose the question of origins, both his own and those of others like him, who moved from the Eastern provinces after the war or escaped to the West after Germany was divided. This gallery of portraits returns inexorably to Germany's past, to different people's destinies, to Aunt Marianne, murdered in 1945 as part of Aktion T4 which euthanized the mentally ill, to Uncle Rudiposing in uniform (Rudolf Schönfelder, killed in the first days of the war), to Heinrich Eufinger, the artist's father-in-law, a staunch Nazi featured in Family at the Seaside.
EARLY EXHIBITIONS, GROUP PERFORMANCES
Over time, new connections were made – with Konrad Lueg2, with Sigmar Polke3, Günther Uecker4 and Blinky Palermo5. In 1964, Richter noted on this subject: 'The group is important for me: things never come on their own. Some of our ideas were developed through conversations. To be isolated in a village, that's not for me. We depend on those around us. In that sense, exchanges with other artists, and particularly the collaboration with Lueg and Polke, are important for me, and provide me with some of the information I need. (Notes, 1964, in Richter, Textes, 1999, p.20.)
He went from the collective work he produced in the East when he was painting frescos to solitary work in his studio in the West. The spirit was different: the shared place, Düsseldorf, and the shared interest, exhibiting together, was supposed, here, to allow access to the art market. Locating themselves in relation to the American artists who took centre stage at the time, Konrad Lueg, Sigmar Polke and Gerhard Richter presented themselves as 'German pop artists' and exhibited in May 1962 in an abandoned shop window on Kaiserstrasse, in Düsseldorf. The invitation card they designed together posed the unavoidable question of classification. Was this Pop Art? Imperialist Realism? Was it the anti-art Neo-Dada? New Realism? The term 'Capitalist Realism', invented by Richter, appeared in the press for the first time on this occasion.
From 11 to 25 October 1963, Richter and Lueg displayed their works amid the furniture of Maison Berges, a furniture shop in Düsseldorf, and invited people to 'Living with Pop – A Demonstration for Capitalist Realism', as it was phrased on their invitation card. The following description of this demonstration appeared in the press: '(…) life-sized sculptures of art dealer Alfred Schmela and President Kennedy welcomed visitors in a waiting room decorated with deer antlers. Divided into groups according to the numbered invitations, they then entered the 'Everyman's Salon' where Richter and Lueg, in suit and tie, were sitting in an armchair and on a sofa, all the furniture being displayed on podiums. Next, the visitors walked through the shop, where the furniture was on display as normal. Advertising announcements were broadcast and the artists exhibited four pictures each.' (Cf. Christine Mehring, 'East or West, home is best', exhibition catalogue, Gerhard Richter. Panorama, 2012, p.36.)
An ironic gesture, proof of the gulf that separated them from the clientele of the Berges shop? Richter exhibited Neuschwanstein Castle there, a painting based on the extremely kitsch castle of Ludwig II of Bavaria with its dungeon and its pinnacled turrets, standing on a rocky peak: an emblematic image of the petit-bourgeois nostalgia for grandeur. Richter's financial situation remained as worrying as it had been on his arrival, when in May 1961 he had written to his friend Wieland Förster: 'I didn't imagine giving up my prosperity in order to devote myself to painting. These days, I have nothing and I am happy about it (…) it is my art that gives shape to my life, not the other way round, which was often the case in Dresden.' (Op. cit. p.37.)
Another notable performance: 'Kaffe und Kuchen' [Coffee and Cakes], in reference to a convivial Sunday custom in Germany, organised at the Schmela gallery in Düsseldorf in 1966. The public was invited to share cream cakes and coffee with the artists. The spirit of this insouciant parody and critical exercise, identifying with the frenzied consumption of an era of reconstruction, can also be found in his photo-paintings of objects from the same period.
In April 1968, a collaboration mixed friendship and art on the theme of community and common destiny. Gerhard Richter and Günther Uecker participated in an exhibition performance entitled 'Leben im Museum' [Living in the Museum] at the Kunsthalle in Baden-Baden, which they used as a studio and laboratory. Richter restored paintings there and exhibited his Alps, Townscapes and Ema. He and Uecker also gave performances there. With Verfolgungen und Verbindungen zweier Künstler, die im Museum leben [Pursuit/persecution and relations of two artists living in the museum] – a title with a double-meaning, as Verfolgung can be translated both as 'pursuit' and 'persecution' – visitors witnessed an extraordinary chase of the artists through the rooms of the museum, intended to evoke Nazi persecutions and/or the hunting of GDR dissidents. With 'Verkabelte Energien' [Wired Energy], the artists, lying on the staircase and connected by wires, denounced remote-controlled, standardised thought.
PAINTINGS OF OBJECTS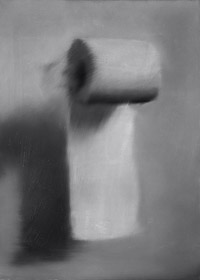 Klorolle [Toilet Paper Roll] (CR 75-1), 1965
Oil on canvas, 55 x 40 cm, CR 75-1
Private collection
Richter's apparently detached attitude towards East and West was also expressed through the objects he painted from when he began working on photo-paintings. He chose iconic objects from the Western lifestyle and the economic miracle that Germany enjoyed in the 1960s, particularly modern housewives' utensils intended for cramped apartments, and gave them the same status as portraits. For example, Faltbarer Trockner [Folding Dryer], 1962.
For other, more or less 'exotic' objects, there is a feeling of unease and scepticism, as for Klorolle [Toilet Paper Roll], 1965 – a provocation for the western public or an ironic reminder of the widespread absence of toilet paper in the GDR's public conveniences? Richter also highlighted his new reality and his new needs: the desire to travel, with Egyptian Landscape, 1964, and luxury cars, with Ferrari, 1964.
THE WEIGHT OF POLITICAL AND CULTURAL HISTORY
LATE SIXTIES-EARLY SEVENTIES
'I wanted to be at the heart of things. I didn't know where I was.'
Interview with Robert Storr, Storr, 2002, p.303.
Though he had been working in the West for a decade, and though his virtuosity was recognised, Richter felt 'passed by', out of step with the art scene of the late Sixties and early Seventies. His work confronting Germany with the trauma of the war, Nazism and partition, clashed with a new society energised by the economic miracle. Painting – especially oil painting – was neglected in favour of performance, land art, conceptual works, film and video. Richter doubted and opposed this trend by continuing to paint in oil – particularly landscapes, seascapes, mountains and Townscapes.
Considered almost reactionary, his skies and seascapes were, nevertheless, contemporary abstract works, often incredibly impertinent – like his Colour Charts and the early Greys. Historical problems continued to haunt his painting, however.
TOWNSCAPES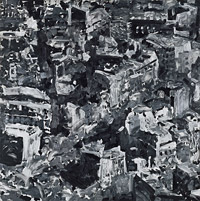 Stadtbild Paris [Townscape, Paris] (CR 175), 1968
Oil on canvas, 200 x 200cm
Froehlich Collection, Stuttgart
The idea of Townscapes was born with a commission for a massive painting for the Siemens building in Milan. The commission was never completed, but the technique was conceived at this time. Richter began with photographs, which he projected onto the canvas and painted, alternating big brushstrokes and quick little touches with impasto effects, as can be seen in Stadtbild Paris [Townscape, Paris], 1968. To make the image more dynamic, he used paintbrushes of unequal widths, giving the illusion that the colours were mixed directly on the canvas. He painted with quick touches, exaggerating the contrasts to obtain an image that can, if we move away from it, be identified as an aerial view of a city.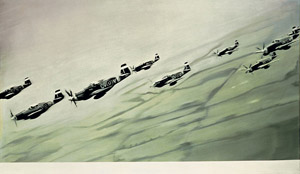 Mustang-Staffel [Mustang Squadron] (CR 19), 1964
Oil on canvas, 88 x 150cm
Private collection
His paintings include two types of Townscapes: the first type is based on models of housing estates photographed in the style of avant-garde architecture, the second type aerial photographs intended to document the reconstruction of cities and the work of urban planners. However, the second type is more evocative of ruins, and brings to mind German cities bombed during the war – and more particularly Dresden, which was destroyed during the night of 13-14 February 1945. The link between these urban skeletons and earlier works like Mustang-Staffel [Mustang Squadron], 1964, and Bombers, 1963, is clear.
When Richter exhibited his Townscapes for the first time in 1968, Benjamin Buchloh saw in them 'an allegorical reiteration of a destruction already fully achieved by history'. But by treating Paris and Madrid in the same way, Richter suggests that the Townscapes should not be interpreted as a series on the fate of his own country's cities and on other martyred cities. In the context of the Cold War of the late Sixties and early Seventies, this collection could be viewed as warning against the risks of another conflict.
MOUNTAINS, SEASCAPES AND CLOUDS
In 1968, Richter also tackled a thorny question relating to German cultural history: he painted mountains, those very mountains glorified by the films of Leni Riefenstahl and by the Nazi literature of Blut und Boden, which celebrated the ties of blood and land. But by refusing to see in this subject a symbol of immutable power, as the Nazis claimed, he created monumental canvases in which the image seemed to disintegrate and to distance itself from all historical concerns.
In the same spirit, his seascapes, such as Seestück (See-See) [Seascape (Sea-Sea)], 1970 – 'too beautiful, too romantic, too superficial' according to Klaus Honnef ('Kunstbericht aus dem Rheinland', vol. 11, n° 43, 3rd quarter of 1971, p.2414) – earned him a reputation for kitsch and the criticism that he was reverting to an old-fashioned, academic approach, to the pictorial atmosphere of painters like Caspar David Friedrich, worshipped by fans of the great German romantic tradition. But Richter's seascapes – made as series, mostly in a 200 x 200cm format, painted slowly and precisely and in a highly polished style, with no impasto – are firmly contemporary. There are no people, the horizon is oddly imprecise, and there is nothing but sea. And yet we notice the strange forms of the clouds, which are, in fact, inverted waves; this is a photographic collage, with a second sea where the sky should be. Consequently, this painting is not a representation; there is nothing real about it, apart from the picture's own reality.
'The painted image is more real than the photograph because the painting in itself has the character of an object, since it is clearly handmade and produced from a tangible material.' (Interview with Doris von Drathen, 1992, Richter, Textes, 1995, p.166).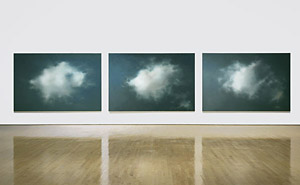 Wolken [Clouds] (CR 270-1,2,3), 1970
Oil on canvas, 200 x 300 x 4cm
National Gallery of Canada, Ottawaa
The first clouds denuded of all context also date from 1968. Contrary to the seascapes, which join either side of a horizontal line, the cloud is inconsistent, changeable, 'shapeless'. Although this, too, is a subject beloved of romantic painters, it is also evocative of religious painting. But Richter leaves hardly any space at all for the spiritual dimension. His clouds, clearly painted based on low-angle photographs, are frozen images, recording random transformations of the motif. Displayed in groups, they take on an almost serial and minimalist character (Wolke [Cloud], 1970).
While the Clouds change in random curves and whirls, painted with hyperrealist precision, the series of Details, created at the same time, suggest the idea of travelling inside the clouds to explore all the circumvolutions (Detail (Red-Blue), 1970). Here, we think of enlarged, extra-planetary landscapes, of the body's folds, of the projection of magnified images of a high-speed journey that will lead us to Abstractions.
Richter would return to landscapes in the 1980s with large panoramic canvases (cf. Chinon, 1987).
ALTERNATING BETWEEN THE FIGURATIVE AND THE ABSTRACT
THE SEVENTIES AND EIGHTIES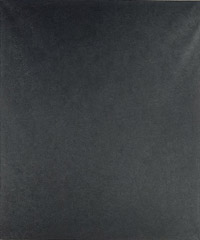 Grau [Grey] (CR 349), 1973
Oil on canvas, 300 x 250cm
Musée national d'art moderne, Centre Pompidou, Paris
'My paintings became more and more impersonal and general, until nothing remained but a monochrome in grey or another colour placed next to each other, an unmodulated colour. At that time, I was completely outside my paintings. I didn't feel well either. One can't live like that. So I decided to paint the exact opposite.' (Gerhard Richter, interview with Dorothea Dietrich, Print Collector's Newsletter, September-October 1985, p. 131.)
GREYS, COLOUR CHARTS AND ABSTRACT WORKS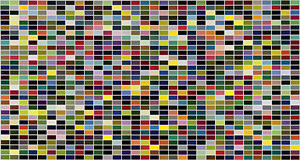 1 024 Farben [1 024 Colours] (CR 350-3), 1973
Enamel on canvas, 254 x 478cm
Musée national d'art moderne, Centre Pompidou, Paris
In 1968, Gerhard Richter made a pictorial volte-face, giving up on portraits, still lifes and landscapes. He began the series of grey monochromes painted with a roller, sponge or paintbrush, highlighting the diversity of greys. In parallel with this, he developed the Colour Charts, developed from the mid-1960s according to a random principle, and the first Glass works. This new approach was characterised by the absence of composition and subjectivity, and an emphasis on experimentation and bursts of colour.
In 1 024 Farben [1 024 Colours], 1973, 1024 shapes, all the same size, are spread over a surface area in a checkerboard pattern, ordered randomly. The use of enamel gives a technical and industrial feel to this immense picture, which induces surprising visual experiences in its viewers.
In the 1980s, he created a sort of hybrid genre by adding abstract touches to photographs. Richter rejected the idea that there should be a separation between the figurative and the abstract: his view was that a picture always shows something; that, even in a colour chart, figurative forms are likely to appear. So, in his opinion, there is no such thing as purely abstract painting.
It is also noticeable that the photo-paintings of the 1960s and the abstract paintings have something in common: the photographic enlargement that alters the perception and interpretation of the image, described by Camille Morineau with the expression blow up. The phenomenon of the blow up and the change of scale it involves can cause the image to pass from one category to the other, rendering it abstract or, conversely, provoking the appearance of figurative elements on an abstract canvas.
Giving up on the use of a camera (he received his first camera for Christmas in 1945), Richter was aware of the photographic experiments conducted at the Bauhaus Dessau, the variations in scale practiced by the pop artists – Roy Lichtenstein, among others – and also by Sigmar Polke. So, in the 1970s, he created paintings from impasto details, including a monumental work for the BMW head office in Munich.
Through the use of projection, he transformed small works into large finished canvases. This technique culminated in Strich (auf Rot) [Stroke (on Red)], 1980, created for a vocational school in Soest, for which he reproduced the image of a line, which looks from a distance like a gigantic, abstract paintbrush stroke. Camille Morineau says of some of Richter's large abstract works from the 1980s that they involve a 'theatrically enlarged simulacrum' where forms and details are revealed only when the picture is seen very close up.
GLENN, 1983

Glenn (CR 532), 1983
Oil on canvas, 190 x 500
Musée d'art moderne de Saint-Etienne Métropole
In other cases – particularly in Glenn, 1983, a picture dedicated to the contemporary American composer Glenn Branca – Richter used a scraper, similar to the way he'd blurred oil paint in the 1960s by grazing it, while it was still damp, with a soft brush. This new tool, the scraper, completed the arsenal of techniques used for his abstract works: the roller for monochromes, the sponge for creating textures, action painting, the wiper. This was also a time when music was playing an increasingly important role in his work, in particular electronic music, with its use of timbres and frequencies to create sonic spaces without boundaries; such impressions of infinity, depth and fluidity can be found in Glenn as well as in Juni [June], 1983.
MIXING GENRES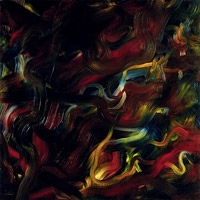 Rot-Blau-Gelb [Red-Blue-Yellow] (CR 335-4), 1973
Oil on canvas, 200 x 200cm
Collection of the Institut d'art contemporain, Rhône-Alpes - Inv.: 85.015
During these years, Richter was still painting figurative works, from photographs: skulls and candles, which can be categorised as still lifes, and more precisely as vanitas paintings. At the same time, however, he was continuing the work begun with the Colour Charts and painting abstract canvases in which he restricted himself to the use of primary colours, notably in the series Rot-Blau-Gelb [Red-Blue-Yellow], 1973. He mixed the three colours directly on the canvas until a surprising range of shades was produced, from the original colours to various browns. This was a technique he would reprise by experimenting with acrylic paint – a new medium for this disciple of oil paint – in the series Aladdin (2010).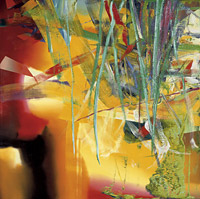 Juni [June] (CR 527), 1983
Oil on canvas, 251 x 251cm
Musée national d'art moderne, Centre Pompidou, Paris
The 1980s works were, in part, the result of a long process of composition, with chance coming into play only in certain places. They display a clear three-dimensional aspect, with a succession of planes, and involve several painting techniques: in Juni, for example, each element belongs to a separate abstract vocabulary, with action painting-style brush strokes and monochrome geometrical constructions, each element playing a specific role: giving an impression of light, of movements towards the depths, etc.
From 1987, these juxtaposed compositions gave way to a strata-based technique using a scraper, in which the work of construction alternates with destruction. The abstract forms disappear along with the remains of the figurative: Abstraktes Bild [Abstract Painting], 1990.
According to Richter, the 'picture was painted in successive layers, with long periods of time between each. The first often serves as the background. Even if I don't use a photograph, it produces an almost illusionistic effect. Firstly, this smooth, melted surface looks like a finished painting that I (…) partially or completely destroy when I start again. The whole thing looks very spontaneous. But (…) what I practice is calculated spontaneity.' (Interview with Wolfgang Pehnt, 1984, Richter, Textes, 1995, p.131.)
THE YEAR 1988: BETTY, 18 OCTOBER 1977
'Mortal reality, inhuman reality. Our rebellion. Impotence. Failure. That is why I paint these pictures.' (Notes, November 1988 (for the press conference of February 1989 – Haus Esters, Krefeld), in Richter, Textes, 1995, p.208.)
INTIMACY, BETTY, EMA, S WITH CHILD
Betty (CR 663-5), 1988
Oil on canvas, 102 x 72cm
Saint Louis Art Museum
The year 1988 was a crucial moment in Richter's work. It was notable for an emblematic painting – an adolescent portrait of his daughter, Betty, born in late December 1966. Painted from a photograph taken several years earlier, she is dressed in a flowered cardigan, wears her hair in a bun, turns away from the viewer – and from the photographer. She is looking back at picture by her father, a Grey from the 1970s that can be identified due to the white border at the bottom of the image. The impression of photorealism is lessened by Richter's characteristic blurring. The rotation of the girl's torso expresses an inherent contradiction in an artist turned partly towards the past and partly towards the future.
Richter drew inspiration from models belonging to the history of art, as with Ema (Nude on a Staircase), 1966, with its allusion to Marcel Duchamp, or the series S. mit Kind [S. with Child], 1995, which harks back to the tradition of Madonnas with Child.
THE 18 OCTOBER 1977 SERIES, TRAGEDY
In the annotated catalogue, Betty precedes the series entitled 18 October 1977 which brings together 15 pictures painted from press and police photographs taken on the date in question and documenting the tragic events that sent Germany into a state of shock.
The facts: the day began with an attack by law enforcement agencies on a Lufthansa aeroplane diverted to Mogadishu by terrorists demanding the immediate liberation of members of the Red Army Faction (RAF) imprisoned in the high-security wing of Stammheim prison, in Stuttgart. At the end of the day, Andreas Baader and Jan-Carl Raspe were found dead in their cells, shot with bullets, and Gudrun Ensslin hanging from an electric cable − the exact cause of their deaths would never be truly made clear. The next day, Hans Martin Schleyer, president of two German employer organisations, kidnapped in September by members of the second generation of the RAF, was killed in retaliation.
The work: even though it bears the title of this tragic date, Richter's series deals with a succession of events relating to the history of the RAF, from its beginnings, with a portrait of the young Ulrike Meinhof, by way of the arrests of Holger Meins, Ulrike Meinhof, Gudrun Ensslin, Andreas Baader and Jan-Carl Raspe, to Gudrun Ensslin's confrontation with her judges, the discovery of the bodies in their cells at Stammheim and, finally, the funerals of the deceased. 
The research documentation that preceded the making of the series is featured in Atlas.This documentation brings together about 100 images from newspapers, books and police archives reporting on this event. Its scope suggests that Richter had begun his research long before the project was created. Speaking of his portraits, Richter describes them as 'neutral'. The titles of his paintings are factual: Tote [Death] − the last of three portraits of Ulrike Meinhof dead −, Gegenüberstellung [Confrontation] − one of three portraits in the series in which Gundrun Ensslin, a lively young woman, seems to look straight at the viewer.
At the first exhibition of the series at the Museum Haus Esters in Krefeld, public reaction was hostile. Richter was suspected of sympathising with these men and women. In fact, faced with these photographs showing the terrorists in degrading situations – Ensslin gasping for breath at the end of a cable, for example, or Baader disfigured – Richter blurs them in order to save their decency, their humanity. Is that empathy? The artist said, on this subject: 'The dead. To begin with, I sought to bring back to life (…) the reality of this era. (…) then things moved in another direction, towards death, a subject that is not incompatible with art.' (Pressebericht zu Gerhard Richter '18 Oktober 1977', Frankfurt, Museum Kunst and Portikus/Cologne, Walter König, 1989.)
The plates in Atlas linked to the events of 1977 recall plates 16-20 containing photographs of concentration camp prisoners that Richter collected in the 1960s without ever managing to paint them. The only work that mentions this violent episode in German history is a photograph in Atlas where the artist appears in a striped suit, huddled up in a corner of the studio, as if to say: 'that could have been me', victim or executioner.
But are these really history paintings? They are, rather, paintings that are engaged with history without any didactic aim. They are fragments containing limited, occasional bits of information; the morbid details are blurred. Richter leaves no place for voyeurism, but slightly lifts the veil of secrecy that has covered these facts for so long.
After 18 October, Richter began a new series of abstract works entitled January, December, November, whose dominant colours – greys and beiges – recall those of the 18 October 1977 series (these three pictures are not included in the Parisian exhibition).
See the 15 paintings of the 18 October 1977 on the MoMA website
GREYS, GLASS WORKS, SILICATE
FROM THE SIXTIES TO THE YEAR 2000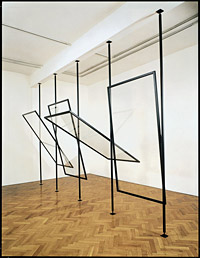 4 Glasscheiben [4 Panes of Glass] (CR 160), 1967
Glass and iron, 190 x 100cm each
Herbert Foundation
Imperviousness to interpretation is one of the characteristics shared by the grey monochromes and the works on glass that seem a separate subgenre in Richter's work.
For example, the 4 Panes of Glass, 1967, mounted in metal frames fixed on axes, suggest the possibility of rotation and movement. The Glass works are imagined as windows opening onto another reality.
This approach was fully revealed in the 2002 retrospective at the Museum of Modern Art in New York, where the Glass works and the Greys – as in the central room of the current Parisian exhibition – had pride of place. Several characteristics of glass are at work here: glass as a transparent material that lets reality through; glass as a mirror that reflects reality, captures and restores it. Other constructions such as 11 Scheiben [11 Panes of Glass], 2004, call upon other ways of perceiving.
These works, having no narrative content, offer an experience that is purely visual. The tint of the glass intoxicates the space beyond the installation, it creates a distance, generates an unsettling impression of elusiveness. The visitor is subject to various visual phenomena: reflections, shimmering, doubling, prism effects, and even blurring effects, as in the photo-paintings of his early years. These panes of glass, slightly leaning backward, widen the field of vision, accentuate the blurring effect and the feeling of depth, superimposition and instability, so much so that we might believe (though it would be an anachronism) that they were the models for the painting Schattenbild [Shadow Picture], 1992, in which we see a structure resembling a window and its reflection.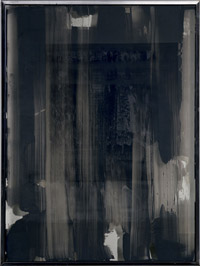 Grau hinter Glas [Grey on Back of Glass] (CR 876-6), 2002
Oil on glass, 121.4 x 91.4cm
Private collection
Other works have a mysterious character that challenges the way we see, particularly Grau hinter Glas [Grey on Back of Glass], 2002, which is linked to the Silicate series, 2003, originally entitled Structures. However, Silicate is not an abstract work inspired by a visual phenomenon but a representation of a highly magnified press photograph (taken from the Frankfurter Allgemeine Zeitung), showing the molecular structure of silica, a semiconductor material used in the computer microprocessor industry. In this way, Richter shows his interest in realities invisible to the human eye, and therefore imperceptible to our senses and incomprehensible without prior knowledge.
STAINED GLASS WINDOWS
(COLOGNE CATHÉDRAL)
In 2002, the chapter of Cologne Cathedral asked Richter to create a stained glass window to replace the one from the south transept that was destroyed during the war. He asked for a particular subject: the representation of six 20th-century martyrs. But Richter went in a different direction. He decided to spread squares of coloured glass, measuring about 10cm on each side, over the allotted surface area (113 m²), in random patterns generated by a computer. This work immediately provoked a violent reaction among certain members of the clergy, who considered it an image 'more suited to a mosque or a temple of modern art', and would have preferred a window with a more figurative image and a stronger metaphorical potential.
As with Panes of Glass, the work's abstract, cloisonné framework – in the same spirit as 1024 Colours – brings it closer to a mosaic, while the profusion of colour fields suggests the desire to create a new icon for the unrepresentable, from the infinitely small to the infinitely large.
KEY DATES
1932

Birth in Neustadt, near Dresden.

1945
His mother gives him a plate camera for Christmas.
1951-1953
Enrolls in the Academy of Fine Arts in Dresden.
1961
Moves to the West with his wife Marianne (Ema).
1965
Presents Capitalist Realism exhibition at the René Block gallery in Berlin.
1966
First Colour Charts, paints Ema.
1967
First glass construction.
Appointed associate professor at the Academy of Fine Arts in Hamburg.
1968
Paints Townscapes, Landscapes, Clouds, Mountains, Seascapes, and the first Greys over 'failed' pictures.
1970
First retrospective at the Kunsthalle in Düsseldorf. Appointed professor at the Arts Academy in Düsseldorf. Begins painting the 48 Portraits (portraits of famous men who made their mark on the history of mankind).
1972
First publication of Atlas.
1974
Paints large Colour Charts and Greys.
1976
Paints Greys, returns to Clouds and Landscapes, begins the Abstractions.
1977
Makes constructions in glass (CR-415-2), abstract paintings, the first portrait of Betty. Retrospective at the Centre Georges Pompidou, Paris. Takes part in documenta VI.
1981
First Mirrors, a series of landscapes. Divorced from Ema. Takes part in the exhibition German Art Today at the Musée d'art moderne de la Ville de Paris.
1982
Marries the artist Isa Genzken. Paints Candles, abstract pictures and landscapes. Moves to Cologne.
1988
Works on the 18 October 1977 series, paints Betty and abstract pictures.
1991
Makes Coloured Mirrors. Exhibition at the Anthony d'Offay gallery in London.
1992
Meets Sabine Moritz, student at the Arts Academy in Düsseldorf.
1993
Retrospective at the Musée d'art moderne de la Ville de Paris.
1995
Marries Sabine Moritz, birth of his son Moritz. Paints abstract pictures and the series S with Child.
1997
Receives the Lion d'or at the 47th Venice Biennale. Exhibits Atlas at documenta X. Suffers a stroke.
1999
Inauguration of Black, Red, Gold in the hall of the Reichstag in Berlin.
2002
Makes Panes of Glass and Vertical Panes. Commissioned to make a stained glass window for the south transept of Cologne Cathedral, inaugurated in 2007. Major retrospective at MoMA in New York.
2003
Paints Silicate, Greys and Landscapes.
2006
Paints the Cage series and the white pictures. Birth of Theodor, his second son.
2009
Major exhibitions at the Albertina in Vienna, the National Portrait Gallery in London, the Haus der Kunst in Munich, and the Musée de Grenoble.
2010
Paints picture in enamel under glass.
2012
Travelling exhibition 'Panorama' at the Tate Modern, London, the Neue Nationalgalerie, Berlin, and the Mnam-Centre Pompidou, Paris.
SELECT BIBLIOGRAPHY
Books
Edited by Camille Morineau, Gerhard Richter, Panorama, Centre Pompidou, 2012
Dietmar Elger, Gerhard Richter, Painter, Hazan, 2009
Jean-Pierre Criqui, Jonas Storsve, Guy Tossatto, Gerhard Richter, Actes Sud, 2009
Suzanne Pagé, Gerhard Richter (3 vol.), exhibition catalogue, Musée d'art moderne de la Ville de Paris, 1993


Gerhard Richter
Atlas, Thames and Hudson, 2007
Textes, Presses du Réel, 1995
Online
Other educational files about exhibitions, the Musée national d'art moderne's collections, shows and the Centre Pompidou's architecture:
In French


In English

Contacts
We welcome your feedback and suggestions to improve this document.
Feel free to contact us via our website, (Contact section, select Education as your subject)

Credits
© Centre Pompidou, Direction des publics, June 2012
Text: Catherine Métais-Bührendt
Translation: Sam Taylor
Graphic design: Michel Fernandez, Cyril Clément
Integrator: Cédric ACHARD
Coordination: Marie-José Rodriguez, editor of educational files

References
_1 Atlas is a portfolio containing a collection of documents, photographs, press cuttings, drawings, projects used as a basis for work, sources of inspiration and models for photo-paintings. Richter began putting together Atlas in 1969. He exhibited it as a work in its own right in December 1972 at the Museum voor Hedendaagse Kunst in Utrecht, at the Städtische Galerie im Lenbachhaus in Munich, at the Dia Art Foundation in New York in 1994, at documenta X in Kassel in 1997, once again in Munich in 1999, and at the Whitechapel Art Gallery in London in 2004. Atlas was finally published by Thames & Hudson in 2007. It currently includes more than 6,000 images on almost 800 plates. It is an essential resource for those wishing to understand and analyse the artist's work. Almost every work has a corresponding plate in Atlas – for example, plate 445 contains three photographs of his daughter Babette (Betty) taken in the 1970s.
_2 Konrad Lueg: Konrad Fischer, pseudonym Konrad Lueg, German artist and gallery owner (1939, Düsseldorf – 1996, Düsseldorf), studied at the Arts Academy in Düsseldorf at the same time as Gerhard Richter and Sigmar Polke. Participated in and helped to organise several performances of Capitalist Realism. Later became one of the most influential gallery owners in the world under the name Konrad Fischer.
_3 Sigmar Polke: German artist (1941, Oels, Silesia (now Oleśnica, Poland) – 2010, Cologne), moved to the FRG in 1953. Active member of Capitalist Realism, with Richter.
_4 Günther Uecker: German artist (1930, Wendorf, Mecklenburg-Poméranie), moved to the West in 1953, also studied at the Arts Academy in Düsseldorf, member of the group ZÉRO, also collaborated with Richter.
_5 Blinky Palermo: German artist, born Peter Schwarze, adopted under the name Peter Heisterkamp, (1943, Leipzig, RDA – 1977, Malé, Maldives), studied at the Arts Academy in Düsseldorf, close to Richter in the 1960s and 70s.