Mike KELLEY

2 May to 5 August 2013 - Galerie Sud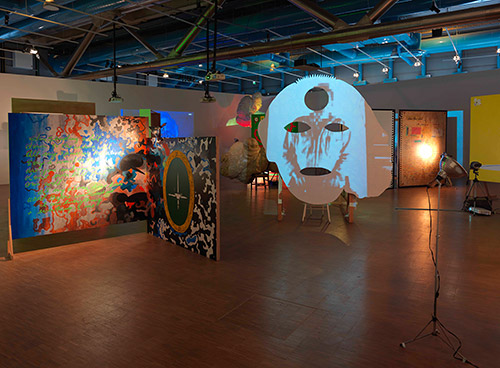 Mike Kelley, Tony Oursler, The Poetics Project, 1977-1997
Installation
Fourteen acrylic paintings on wood, three object/sculptures,
eleven projectors, six loudspeakers, a sound organ, an audio CD,
eleven video tapes lasting from 5 to 226 mins, colour, sound.
View of the exhibition, Centre Pompidou, 2013
The exhibition
Staged at the Centre Pompidou after a first showing at the Stedelijk Museum of Amsterdam in late 2012, the "Mike Kelley" exhibition is reconfigured according to a specific curatorial approach at each stage. It will continue its journey to the United States: to New York and then Los Angeles, whose vibrant artistic scene saw Mike Kelley's singular, disturbing creativity emerge and develop between 1976 and 2012.
Mingling the world of popular culture and erudite references to scholarly culture with his perfectly mastered art of the offbeat and a profound liberty, Mike Kelley's work takes every shape and uses every technique, including drawing, painting, sculpture, installation, performance, disparate objects, photography, video and sound creation. To foster visitors' total immersion in this work, which is complex to grasp and can be interpreted on several levels, the circuit is structured around highlights in the artist's output and the main themes that lie behind it. The staging of the exhibition provides key points of reference without forcing viewers to go around the exhibition in a particular order, thus giving them a picture of the fragmented approach and all-embracing vision typical of Kelley's work.
Mike Kelley (1954-2012)
Born in Detroit in 1954, Mike Kelley entered the art scene of Los Angeles in 1976 when he went to study at CalArts (California Institute of the Arts, Valencia), an extremely dynamic multi-disciplinary art school with an international name, well-known for its bold experimental approach. Teachers there included the artists John Baldessari, Laurie Anderson and David Askevold. All three played a key role in Kelley's development. However, when he entered CalArts, Mike Kelley already had some artistic experience behind him, because the previous year, together with Jim Shaw, Cary Loren and Niagara, he had founded the "anti-rock" group Destroy All Monsters, which mingled punk-style music and performance art in a spirit of counter-culture. Continuing this early experiment, in 1977 he created a group called The Poetics with Tony Oursler in Los Angeles. A fundamental, central part of his approach, the sound creation and theatricality intrinsic to the punk rock culture marked his entire output right to the end. 
After an initial period essentially marked by performance, he developed an extremely varied personal approach. Inspired by philosophical questions, psychoanalysis and literature, mingling popular culture and counter-culture and lacing the whole with a strong helping of black humour and irony, Kelley explored taboos mainly concerned with childhood, education and sexuality. Questions relating to memory, both individual and collective, became increasingly present at the same time. In this way, nourished with autobiographical elements and news stories, some of his pieces addressed the question of trauma-related repressed memories, while others drew on official history, deconstructing it by revisiting so-called "minor" histories. Throughout these years, Mike Kelley also produced particularly dense and original pieces inseparable from the rest of his work.1
In the early 2000s, Mike Kelley finally established himself as a major figure in the international art scene. When he died unexpectedly on 31 January 2012, he left behind protean work that was undoubtedly unfinished, but not subjected to the formalisation of his own official history. The determination with which Mike Kelley fought against any reductive and particularly any autobiographical interpretation of his work makes writing about him extremely difficult. But as he said himself in 2000: "Despite being opposed to any fixed meaning, I am against the idea of lack of meaning"2, and this report seeks to suggest approaches for understanding his work without claiming to give an official reading of it. The whole difficulty for the art world – museums, critics and the various players in mediation alike – now lies in the need to maintain the sense of the "uncanny"3 that viewers feel when immersed in Kelly's work.
Circuit
1. Mike Kelley, Horizontal Tracking Shot of a Cross Section of Trauma Rooms, 2009
Acrylic on wood panel, video monitors and DVD players
243.8 x 487.6 x 61.1 cm
View of the exhibition, Centre Pompidou, 2013
2. Mike Kelley, Horizontal Tracking Shot of a Cross Section of Trauma Rooms, 2009
Acrylic on wood panel, video monitors and DVD players
243.8 x 487.6 x 61.1 cm
View of the back of the work, Centre Pompidou, 2013
At the start of the exhibition, the first piece gives visitors a comprehensive taste of the acerbic, disturbing nature of Mike Kelley's approach. The installation Horizontal Tracking Shot of a Cross Section of Trauma Rooms4 is presented as an abstract work: an assembly of vertical panels of different colours and heights. Behind the façade of their reassuring rhythm, three regularly laid-out screens, also vertical, alternately broadcast bands of colour similar to coloured panels and brief excerpts of video footage taken from the Internet, with an ambiguous interpretation and sometimes dubious humour, showing children in their family environment. The excerpts are too short to understand what is going on, and catch the viewer violently off guard. The tension built up between one side of the installation and the other and through the confrontation of these disturbing videos is characteristic of what Kelley tries to stage in his work: viewers have no grasp of what is going on. Turned into voyeurs against their will, they are condemned, through their experience of the work and with no way of grasping it, to fall back on their own contradictions. Now the immersion process can begin...
The language of objects
1. Mike Kelley, Performance Related Objects, 1977-1979
Installation. Objects laid out on a wooden platform (20 x 609 x 243.7 cm)
View of the exhibition, Centre Pompidou, 2013
2. Mike Kelley, Performance Related Objects, 1977-1979 [detail]
Spirit Voices, 1978-1979
and Spirit Collector, 1978, from the series of performances entitled Tube Music
View of the exhibition, Centre Pompidou, 2013
The circuit continues with an installation based on the first performances Mike Kelley produced in the Seventies: Performance Related Objects. Then a student at CalArts, he included sound creation and humour in his work, notably through intriguing objects/sculptures mingling futuristic and minimalist references. These objects were laid out by the artist on a wooden platform, accompanied by soundtracks and photographs of the performances concerned. Carrying within them the history of the artist's first performances, like a landscape from science fiction they also create a work in its own right, which establishes new relationships between the elements.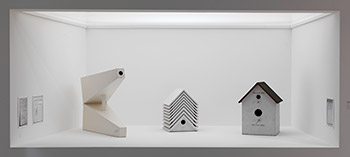 Mike Kelley, Birdhouses, 1978
Detailed caption of works: see enlargement
View of the exhibition, Centre Pompidou, 2013
Not far from there, the Birdhouses series presents other quirky object/sculptures in a strongly humoristic vein. In 1978, echoing the "Do it yourself" practice particularly well-developed in the United States, Mike Kelley explored the theme of the birdhouse.
Mike Kelley, Catholic Birdhouse and Title Drawing, 1978
Two elements
Object: wood, paint, shingle roof, 60 x 47 x 47 cm
Drawing: ink on paper, 24.1 x 15.2 cm
In the Gothic birdhouse the roofs are piled on top of each other for greater elevation, while Catholic Birdhouse imposes a moral choice between the two entrances on the birds: the easy way (a large accessible hole right in the middle of the façade) and the difficult way (narrow, notched, and squashed up under the roof). One leads to a "tiny deep well", the other towards "light and open space". Accompanied each time by a small, humorous instruction manual, these proposals parody DIY manuals, gently mocking the emotional investment that goes into these items. Like minimalist sculptures in search of meaning, the Birdhouses are also a derisive, caustic comment on the artistic creation of their time.
A composite work
Mike Kelley, works in the series entitled Plato's Cave, Rothko's Chapel, Lincoln's Profile, 1985-1986
Detailed caption of works: see enlargements
Views of the exhibition, Centre Pompidou, 2013
Mike Kelley's work is structured around large-scale projects encompassing varied groups of works and interventions. One of these, Plato's Cave, Rothko's Chapel, Lincoln's Profile, combines a text, a series of paintings and objects, an installation and a performance given in 1986 at the Artists Space in New York, in which the avant-garde rock group Sonic Youth took part. Arbitrarily juxtaposing three historical figures (a philosopher, an artist and a politician), the project poses the question of what precisely characterises them, making play on the possessive " 's". Plato gives his name to the cave in the myth he created; Rothko's name is given to the chapel in which he worked in Houston, while the identity of Lincoln merges with the penny piece on which his profile is engraved. Here Mike Kelley tackles mainstream official history by revisiting it and the question of power. 
A selection of paintings and objects arising from this project is presented in the exhibition. With varying styles and techniques, the works enable viewers to appreciate the composite nature of the artist's approach, which functions as a genuine art of assembly: acrylic on paper, ketchup on canvas, glued felt, acrylic on tapestry, and so on.
Reflecting the influence of comic strip and popular culture, the painting Exploring II makes play with text and image in its composition. The text, written on the work, is inserted into the very thickness of the drawing, filling the spaces in the cavities of the cave: "in pot-holing, sometimes you have to bend down, sometimes go on all fours, and sometimes even crawl … Crawl, earthworm." Here Plato's cave, from which mankind can only observe shadows of the world, is no longer just an element of philosophical rhetoric, but becomes a place worthy of being explored in itself.
Rehabilitating "minor" histories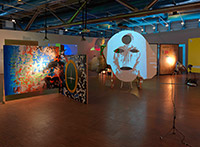 Mike Kelley, Tony Oursler, The Poetics Project, 1977-1997
Installation: fourteen acrylic paintings on wood, three object/sculptures,
eleven projectors, six loudspeakers, a sound organ, an audio CD,
eleven video tapes lasting from 5 to 226 mins., colour, sound.
View of the exhibition, Centre Pompidou, 2013
Another large-scale project by Mike Kelley developed in collaboration with Tony Oursler, The Poetics Project, a majestic visual and sound installation, takes up the entire central area of the exhibition. Presented at the Documenta X in Kassel in 1997 then acquired by the Centre Pompidou, this consists of a monumentalised evocation of a venture that had until then been known only to a few: that of the group called The Poetics, which Tony Oursler and Mike Kelley founded in 1977 when they were both students at CalArts.
Consisting of paintings, sculptures and projections, the work takes its material from the archives of the two artists (notebooks, sketches and compositions), from images or landscapes or places that played a role in their project, and also from their memories and those of their contemporaries, notably interviews with Tony Conrad, John Cale, Alan Vega, Laurie Anderson, David Byrne and Dan Graham, among others. According to Mike Kelley's logic, it is a question of rehabilitating a so-called "minor" history while avoiding the fixed, linear account of official history. The wide range of media, techniques and references involved thus invite viewers to reinvent the means used for writing an account of history. 
Of stuffed animals and men
1. Mike Kelley, Garbage Bag V, 1989
Acrylic on paper, 102.2 x 81.2 cm
2. Mike Kelley, Figure II (Hair), 1989
Acrylic on paper, 102.2 x 81.2 cm
Begun in 1987, the Half a Man series seemed to introduce a new register in Kelley's work. Largely consisting of salvaged, worn stuffed animals, though far from being nostalgic, this evokes the world of childhood and the way its close links with commercial considerations often make adults overinvest in it. Staged in a way that is both tragic and comic, these stuffed toys, which have a strong emotional power in daily life, here arouse a certain malaise. Incidentally Mike Kelley earned himself quite a name with these works in the early Nineties, causing a certain amount of scandal.
The Half a Man series is swelled by a series of drawings of organs (lungs, kidneys, etc.) associated with drawings of dustbin bags and rag dolls. Staged alternately in a linear presentation, these various registers are thus placed on the same level, according to the de-hierarchisation process typical of the artist, who in putting our vital organs, waste and cuddly toys on the same plane, casts a new light on our entire system of values.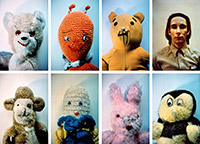 Mike Kelley, Ahh… Youth!, 1991
Eight Cibachrome photographs, each 60 x 41 cm
Edition of 10 + 2 artists' proofs. Ed. 2/2 artists' proofs
Forming part of the Half a Man project, the work Ahh… Youth! was used as the cover for the album entitled Dirty (1992), emblematic of the "noisy" style developed by the Sonic Youth group, then established as a flagship group in the music scene. It is presented as a photobooth-style portrait gallery. The characters are small stuffed toys with a wretched appearance: dirty, worn-out, with missing eyes, sewn-up muzzles and torn-out fur.
Among them, Mike Kelley represents himself as a teenager. His pockmarked skin and uncertain gaze echo the imperfections of the tattered stuffed toys, and he seems to be one of them. Here again, equalisation and confusion between human and non-human are at work, introducing an unsettling element into our points of reference and a distinct uneasiness, halfway between amusement and commiseration.
Education and ordinary traumas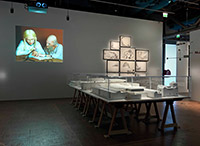 In the foreground: Mike Kelley, Educational Complex, 1995
Acrylic, fibreglass, wood, latex, foam, 146.7 x 488.2 x 244.2 cm
Behind on the left: Mike Kelley, Paul McCarthy, Heidi, 1992
Video, colour, sound, 62 mins. 40 s
View of the exhibition, Centre Pompidou, 2013
The theme of education is central to Mike Kelley's work. As a social process for standardising individuals, it interested him to a very high degree. To get a clear picture of it, he studied the places embodying this process, and in the huge white model called Educational Complex, he reproduced a "digest" of all the schools he attended during his years of study.
In several places, holes or smooth areas are seen, corresponding, according to the artist, to zones that the memory is unable to fill. Indicative of repressed memories, they are linked to places where traumatic experiences have occurred. The use of architectural representation thus shows the way the memory works.
Here, the autobiographical aspect is claimed by the artist as an element that comes from the collective memory: "In fact, in a culture there is no great difference between group and individual memory. My memories are so much a part of cultural myths, films, books, magazines and all that sort of thing, and in any case so much a fabrication based on these models, that I don't see much difference. All I do, personally, is supply details to make it seem real."5
In Heidi, Mike Kelley and the painter, performer and video director Paul McCarthy parody the moral tale found in the eponymous novel by Joanna Spyri, written in 1880. This video also exists as a complement to an installation entitled Midlife Crisis Trauma Centre and Negative Media Engram Abreaction Release Zone, a set made by the artists in the form of a life-size   chalet, which was used for the shoot. 
In it, alongside rubber puppets, Kelley and McCarthy play the roles of the grandfather and the little Heidi: distorted characters with disturbing behaviour. Far from being an idyllic physical and mental setting, the chalet in the mountains becomes the stage for sordid scenes played by grotesque characters on the edge of madness.
For further information on the installation and video Midlife Crisis Trauma Centre and Negative Media Engram Abreaction Release Zone, see the exhibition press kit Hors Limites. L'art et la vie 1952-1994 (page 13).
1. Mike Kelley, Extracurricular Activity Projective Reconstruction #28 (Nativity Play), 2004-2005
Audiovisual installation, various materials, photographs,
365.8 x 457.2 x 690.9 cm
2. In the foreground: Mike Kelley, Extracurricular Activity Projective Reconstruction #25 (Devil's Door), 2004-2005
Audiovisual installation, various materials, photographs,
287.7 x 396.3 x 203.2 cm
Detailed caption of works: see enlargements
Views of the exhibition, Centre Pompidou, 2013
In the years 2000, Mike Kelley developed a new body of work entitled Day is Done, devoted to the realm of Extracurricular Activity. For him, this was a question of dealing with shows, dressing-up parties and other collective rituals: all potential areas of trauma. Using photos found in high school or university student magazines, he mobilises fiction to produce what he himself called" projective reconstructions".
The large installation entitled Nativity Play is based on a photograph of three small children dressed up as little angels for what is probably a Christmas show laid on by the school.    Mike Kelley reworked the photograph, produced videos based on this starting point, whose real meaning he did not know, and also exhibited the set he designed for this fiction. In the video, emphasised by the sound track, the children's unease is made perceptible and the whole absurdity of the scene seems obvious. Like a perplexed puppet, the child here seems to be experiencing what might be called an ordinary trauma, to the general indifference of the world.
More overtly disturbing, the installation Devil's door, based on a simple photograph of a young man dressed up as a devil, stages a small boy in the grasp of two unwholesome adults in a hairdressing salon. There is a distinct touch of black humour, but this does not disguise the anxiety that is gradually established as the fiction progresses.
Energy and the formless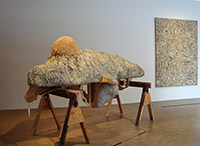 Mike Kelley, SS Cuttlebone, 2000
Paper pulp, acrylic, wood, bird seed, cuttlebone, jewellery, trestles
185.4 x 269.2 x 111.7 cm
View of the exhibition, Centre Pompidou, 2013
Waves and fluids of all kinds are recurring motifs in Mike Kelley's work, symbolising vital, sexual and creative energy.  They are accompanied by stains and inkblots, which arouse all kinds of mental projections. The formless, which can inspire all kinds of interpretations, is particularly powerfully embodied in SS Cuttlebone, part of the Memory Ware series. Like a pile of fat associated with the seeds or cuttlebones people hang on branches or in cages as bird food, the imposing sculpture with undefined contours, decorated with fancy jewellery, is placed on trestles: a cumbersome mass, but here with no defined use.
Representing the unrepresentable : Kandors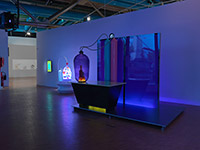 In the foreground: Mike Kelley, Kandor 15, 2007
Audiovisual installation, glass, metal, fluorescent tubes, various materials
243 x 313 x 216 cm. Edition of 2
View of the exhibition, Centre Pompidou, 2013
The exhibition circuit ends with a final group of works devoted to Superman's city: Kandors. Here we find Mike Kelley's fascination with not only the architectural and the urban, but also, as in Educational Complex, the question of representation, which is subject to the vagaries of the memory. Because this mythical city (of which the super hero has a miniature version in a bottle) is never the same in each successive series of comic strips.  
Mike Kelley sought to capture this city and the world it embodies with humour through several different representations, including schematic drawings, sculpture, video and a monumental installation. Kandor 15 is one of these proposals; a sophisticated installation similar to a laboratory setting, where he brilliantly explores the science fiction and comic strips that feed the collective imagination.
A basin is casually placed behind the translucent panel that serves as a backdrop to the whole group. A kind of offbeat tribute, this evokes the spirit of Mike Kelley, whose assistant tells us that he would often add an incongruous element to his installations, no matter how intricate they were.
Around the exhibition
View the schedule on the www.centrepompidou.fr site
Bibliography
Mike Kelley, exhibition catalogue edited by Sophie Duplaix, co-published by Somogy Éditions d'Art /Éditions du Centre Pompidou, Paris, 2013
Mike Kelley, Foul Perfection, editor: John Welchman, Cambridge, MIT, 2003
Mike Kelley, Minor Histories: Statements, Conversations, Proposals, editor: John Welchman, Cambridge, MIT, 2004
Mike Kelley, Interviews, Conversations, and Chit-Chat (1986-2004), editor: John Welchman, JRP Editions, 2005
Jean-Philippe Antoine, "Basket nocturne à dos d'âne. Une conversation avec Mike Kelley", Les Cahiers du Musée national d'art moderne, no. 73, automne 2000
Mike Kelley, " Nouvelle introduction à "The Uncanny", Les Cahiers du Musée national d'art moderne, no. 93, Autumn 2005.
Los Angeles 1955-1985: naissance d'une capitale artistique, edited by Catherine Grenier, Paris, Centre Pompidou, 2006
Credits
© Centre Pompidou, Public Department, June 2013
Text: Noémie Giard
Translation: Bernard Tholy – 4T
Graphic design: Michel Fernandez
Integration: Cyril Clément
Coordination: Marie-José Rodriguez, Educational files editorial manager

References
_1 See John C. Welchman : Les livres de Mike Kelley.
_2 Jean-Philippe Antoine, "Basket nocturne à dos d'âne. Une conversation avec Mike Kelley ", Les Cahiers du Musée national d'art moderne, no.73, Autumn 2000.
_3 Inspired by Freud, the concept of "the uncanny" (Das Unheimliche), plays a key role in Mike Kelley's thinking. It serves to evoke the feeling of malaise that can sometimes arise in a familiar situation that suddenly seems strange to us.
_4 This choice was made so as not to reduce or lose the meaning of the work, and not to attempt to give a French version of Mike Kelley's titles, most often untranslatable.
_5 Jean-Philippe Antoine, "Basket nocturne à dos d'âne. Une conversation avec Mike Kelley", Les Cahiers du Musée national d'art moderne, no.73, Autumn 2000.