Educational dossiers - Museum's Collections pédagogiques
A Movement, A Period
Surrealist art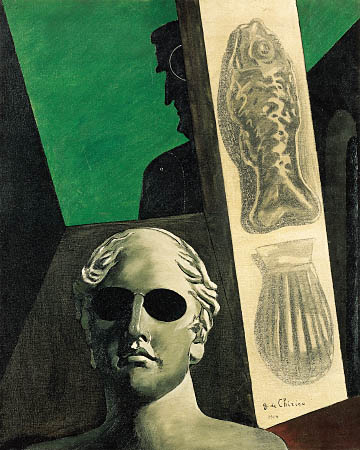 ---
Giorgio de Chirico,
Portrait prémonitoire de Guillaume Apollinaire (Premonitory Portrait of Guillaume Apollinaire), 1914
The Origins of Surrealist Art

The Artists and Their Works
• Giorgio de Chirico, Portrait prémonitoire de Guillaume Apollinaire
(Premonitory Portrait of Guillaume Apollinaire), 1914
• Max Ernst, Ubu Imperator, 1923
• Man Ray, Le Violon d'Ingres, 1924
• Joan Miró, La Sieste (The Siesta), 1925
• René Magritte, Querelle des universaux, early 1928
• Salvador Dalí, Lion, Cheval, Dormeuse invisible, 1930
• Victor Brauner, Loup-table (Wolf-Table), 1939-1947

Glossary of Surrealism

Chronology

BibliographY

Contact
This dossier forms part of the series A Movement, a Period.
These dossiers are shaped around a selection of works from the main movements and tendencies represented in the collections of the National Museum of Modern Art.

Each of these dossiers includes:
- a general introduction which will present and situate the role of the movement in a historical, geographical and aesthetic context,
- a selection of the most representative works from the Museum's collections, contained in individual files each with notes, a reproduction and a biography of each artist,
- a chronology.

FOR YOUR INFORMATION
There are more than 59,000 works in the Museum's collections.
The Museum regularly varies the works on show in the exhibition spaces on the 4th and 5th levels of the Pompidou Centre. The educational dossiers have links set up to these new hangs.
To know more about the Museum collections : www.centrepompidou.fr/musee
The Origins of Surrealist Art

The Surrealist group was formed in the spirit of revolt which characterised the European avant-garde of the 1920s. Just like the Dada movement, in which some of them had participated, these poets and artists denounced the rationalist arrogance of the late 19th century which had been halted in its tracks by the First World War. However, perceiving Dadaism's incapacity to build new positive values, the Surrealists broke away from it to proclaim the official existence of their own movement in 1924.
Dominated by the personality of André Breton, Surrealism was at first essentially a literary movement. Its field of inquiry was experimentation with language free from conscious control. Then this way of thinking was soon extended to the plastic arts, photography and cinema, not just by virtue of Breton's inclinations, though he himself was a collector and art lover, but also through the involvement of artists from all over Europe and the United States who had moved to Paris, which was then the world capital of the arts.
The surrealist artists introduced the theory of the liberation of desire through the invention of techniques that aimed to reproduce the mechanisms of dreams. Taking their inspiration from the work of Giorgio De Chirico, who was unanimously acknowledged as the founder of the surrealist aesthetic, they strove to reduce the role of consciousness and the intervention of the will. The techniques of frottage and collage used by Max Ernst, the automatic drawings made by André Masson and Man Ray's rayographs are the first examples of this. Shortly after, Miró, Magritte and Dalí produced oneiric images by bringing about a juxtaposition of disparate elements.
Their first group exhibition was held in Paris in 1925. The movement subsequently spread abroad to achieve international renown with the 1936 exhibitions in London and New York, then in Tokyo in 1937 and in Paris in 1938. This fame was enhanced by most of the group's wartime departure for the United States. Thus Surrealism profoundly inspired American art: for example, the practice of automatism is one basis for Jackson Pollock's work and for Action Painting, while the Surrealists' interest in objects prefigures Pop Art.
Surrealism was a movement that developed over more than 40 years, from the historic avant-gardes of the early century to the emergence of new currents in the 1960s. Besides American painting and Pop Art, surrealist art lay behind the appearance of a second avant-garde wave in Europe in the 1960s, its foremost representative being New Realism.
• Link to the Pop Art dossier


• Link to the New Realism dossier


• Link to the Object in 20th century art dossier

The Artists and Their Works

Giorgio de Chirico
Volos, Thessaly, 1888 - Rome, 1978


Giorgio de Chirico, Portrait prémonitoire de Guillaume Apollinaire
(Premonitory Portrait of Guillaume Apollinaire), 1914
Oil on canvas
81.5 x 65 cm

This painting was probably given the original title Homme-cible (Man as Target) and acquired its final title only after Guillaume Apollinaire was wounded in 1916, an event in a sense prefigured by De Chirico.
Indeed, the portrait in shadow outline which appears at a window in the background of the picture has a white circle representing a target on the temple of the figure, on the exact spot where Apollinaire was to be hit by splinters from a shell during the war. This coincidence was interpreted as a sign of fate by Apollinaire himself, as well as by Surrealists inclined to see De Chirico as possessing visionary powers. A drawing of this portrait belonged to Paul Éluard, which meant that the work became widely known within the group, while the painting, which was given to Apollinaire by the artist, was for a long time in the private collections of his heirs.
The lively interest which this work aroused in the Surrealists is not however just a matter of its being a premonition. Just as the images in dreams condense multiple meanings, the elements of its composition lend weight to readings whose different layers are mutually enriching. Apollinaire's profile is inspired by a portrait medal made by De Chirico that same year which elevated the poet to the rank of antique emperor; this grandeur is nuanced by the choice of a shadowplay representation which is reminiscent of the magic lantern, or else the targets that pop up one after the other in shooting galleries.
The statue in the foreground also has a layering of images. Painted in the style of the Vénus de Milo, it has to be identified as the poet Orpheus, a representation suggested by his attributes, the fish and the conch shell. The statue wears dark glasses, symbolising blindness, an infirmity associated with wisdom in Greek mythology.
Thus, the composition as a whole offers an "enigma" - De Chirico's word - to be decoded by an association of ideas, which depicts Apollinaire as the very incarnation of poetry hypostasised as wisdom.
Biography

Giorgio De Chirico was of Italian origin and was born in a seaport in eastern Greece, where he grew up. He simultaneously attended the Polytechnic in Athens and a school of painting and drawing. He continued his artistic studies in Munich and there was drawn to the painting of Böcklin and the philosophy of Nietzsche.

On moving to Paris in 1911 he discovered the landscapes of modernity, whose symbols, such as stations, chimneys and shop signs mingle with his memories of Greece and Italy. These superimpositions inspired the deliberately enigmatic paintings to which Apollinaire gave the name "metaphysical". Regularly exhibited from 1912 on at the Salon d'Automne and the Salon des Indépendants, these paintings depict juxtaposed objects, some of which recur, architectural elements which cast pronounced shadows, antique sculptures which soon become confused with dressmakers' dummies, or else a glove or an artichoke.

In 1915, with Italy's entry into the war, De Chirico was mobilised. The architecture of Ferrara prompted a series of paintings titled "metaphysical interiors", in which space was fragmented into multiple viewpoints, from trompe-l'oeil to extremely dizzying perspectives. In 1918 he moved to Rome, where he was involved in setting up Valori Plastici, a review which quickly situated itself as a defender of the Italian art of the Quattrocento.

De Chirico then repudiated his earlier work just as it was received as a revelation by the Surrealists. In 1922 he was given a big solo exhibition in Paris, which was introduced by André Breton.
Max Ernst
Brühl, near Cologne, 1891 - Paris, 1976


Max Ernst, Ubu Imperator, 1923
Oil on canvas
81 x 65 cm

Acquired by Paul Éluard together with two other large oil paintings on canvas, Ubu Imperator instantly marked Max Ernst's entry into the sphere of Surrealism. This work brilliantly illustrates the enjoyment of heterogeneous elements inherited from collage. Its power lies in the production of a unified image which still preserves the capacity to disturb as the viewer observes its individual elements: the tip of the spinning top, the red hulk with its wire armature showing through, the human hands expressing surprise.
Thus, Père Ubu, the grotesque symbol of authority invented by Alfred Jarry, is given visual shape in playful derision. What is more, in this guise there reappears the childhood of Max Ernst, a vision of "half-slumber", as he himself described it, in which all the prestige of paternal authority and likewise of artistic creation is de-sacralised. Behind the buffoonery of power alluded to by Ubu as a spinning top, the whole traditional aesthetic of rational construction and geometric perspective is also ridiculed.
One year before the appearance of Le Manifeste du surréalisme (Surrealist Manifesto), Ernst elaborated not just a definition of the formal directions upon which he was embarking (a complex process of visual alchemy in which the re-emerging symbols of childhood are layered and combined) but above all a sense of his own approach to the act of painting, simultaneously distanced and ironic, which would command all of his poetics.
Biography

Max Ernst studied philosophy and art history at the University of Bonn between 1909 and 1912. After mobilisation during the First World War, he formed a Dada group in Cologne with Arp and Baargeld. His first collages were composed in 1919 and were inspired by the painting of De Chirico, which had become known through the review Valori Plastici. They played on ambiguity and contradiction, the multiplicity of meaning, in order to elude any logic. These works were presented in Paris in 1921 at an exhibition organised by André Breton, thereby laying down the aesthetic foundations of the future surrealist group.

Experimenting within this young movement, Max Ernst invented new pictorial techniques such as frottage, in 1925: by virtue of this randomly generated procedure, he established a distance in relation to the work which led him to locate himself "beyond painting". Likewise, in 1929 he invented the collage-novel with La Femme cent têtes, later producing sculptures as well as sets for the Ballets Russes.

Ernst's work took up a significant part of the 1936 New York MoMA exhibition, "Fantastic Art, Dada and Surrealism", with forty-eight of his paintings on show. The Second World War saw his exile in United States, where he painted a series of canvases, notably Surrealism and Painting, 1942, (its title echoing that of André Breton's famous work) for which he employed the technique of "dripping". Thus a genuine manifesto of automatism was offered to the young generation of American painters who would be profoundly marked by Ernst's innovations. In 1942 he married Peggy Guggenheim, then, in 1946, Dorothea Tanning, with whom he moved to Arizona before returning to France in 1953.
Man Ray
Philadelphia, 1890 - Paris, 1976

Man Ray, Le Violon d'Ingres, 1924
Silver nitrate print with markings in pencil and Indian ink
28.2 x 22.5 cm
Purchased 1993
AM 1993-117

In his memoirs, Man Ray tells how Alice Prin, known as Kiki of Montparnasse, refused to pose for him because, as she said, "a photograph was too factual". He goes on: "Not mine, I replied, I photographed as I painted, transforming the subject as a painter would, idealising or deforming as freely as does a painter." (Man Ray, Self-portrait). The Violon d'Ingres precisely illustrates these ideas, with its intimations of a photographer halfway between painting and mechanical reproduction.
Kiki's back-turned body and the position of her head, turbaned oriental-style, recall Ingres's bathers, in particular the figure in the foreground of Le Bain turc (Valpinçon Bather), a reference suggested to Man Ray by the perfection of the young woman's body, which, he says, "would have inspired any academic painter".
By virtue of the two sound-holes drawn on the print in black lead and Indian ink, the body is metamorphosed into a violin. While Man Ray is playing with the popular expression in French "to have an Ingres violin", meaning a consuming hobby (Ingres having been a passionate violinist) he also intends to show the young woman's eroticism and his own passion: she is his Ingres violin. Thus the photograph refers to the idea of "amour fou" (mad love), which André Breton himself explores in the eponymous work of 1937.
Lastly, the comparison between the woman's body and a violin illustrates the principle of the unexpected encounter, of which the Surrealists were so fond. In relation to this, the photograph was published for the first time in June 1924 on the flyleaf of issue 13 of Littérature, the magazine edited by André Breton and Philippe Soupault, and for a long time it belonged to Breton. It is this original print that is owned by the Mnam, along with a variation in which Kiki poses in profile.
Since Man Ray authorised repeated reprintings, there are other copies of this photograph. Using one of these reprintings, in 1965 he produced another version of the Violon d'Ingresby drawing four strings, not in trompe-l'oeil like the sound-holes, but all the way down the centre of the image.
• The Valpinçon Bather by Jean-Auguste Dominique Ingres at the Louvre Museum:

Biography

After graduating from High School, Emmanuel Rudnitsky had various jobs in advertising and graphic design while beginning to paint. He then adopted the name he was known by as an artist, Man Ray.

Through regular visits to the 291Gallery run by the photographer Alfred Stieglitz in New York, then to the Armory Show in 1913, he discovered the European avant-gardes, and in particular the work of Marcel Duchamp, whom Man Ray got to know two years later, beginning a lifelong friendship. Together they helped Katherine S. Dreier, a rich American patron, to set up a museum of contemporary art in 1920; this was "Société Anonyme". In the same year they also established a New York Dada group through the publication of a magazine, of which only one issue appeared. Man Ray said later that the times deserved no more than this single "Dadadate". It was during this period that he began teaching himself photography, first reproducing his own paintings and Duchamp's work, then making portraits.

After moving to Paris in 1921, while doing studio work, primarily for the couturier Paul Poiret, he became part of the Surrealists' circle and pursued his own work by experimenting with new procedures such as the rayograph. He published the results in a work titled Champs délicieux, a tribute to Soupault's and Breton's Champs magnétiques. He also made a number of films, such as Retour à la raison (1922) and some surrealist objects. Defined by Duchamp as "masculine noun: synonym of joy, play, enjoyment", Man Ray took part in every surrealist exhibition from 1925 to 1959.

• Man Ray on the Internet
Joan Miró
Barcelona, 1893 - Palma de Majorca, 1983

Joan Miró, The Siesta (La Sieste), 1925
Oil on canvas 113 x 146 cm
Purchased 1977
AM 1977-203

This canvas, which belongs to the "dream pictures" period begun in 1924, is indicative of Joan Miró's contribution to Surrealism. While being grounded in reality, the painter developed his own oneiric universe based on a repertoire of signs inspired by the work of Paul Klee, which he scatters over a monochrome and unvarying pictorial space, to all appearances a void.
The process of simplification from which La Sieste emerged can be reconstituted on the basis of Miró's preparatory drawings. In one of these, a woman is lying on the ground in front of a house on which a sundial is represented; in the distance, on a beach, four figures dance the sardana. Beyond, rise the peaks of the mountains of Montroig in Catalonia, where Miró used to spend holidays, while a flaming sun mounts into the sky. In another drawing which prefigures the final result, Miró has assembled these different elements together schematically: the woman and the house merge into a kind of white kite; the hands of the sundial are enlarged to indicate the figure 12, the hour of the siesta; the circle of dancers is expressed as a circle of dotted lines; the crest of the mountains becomes a kind of upturned umbrella.
The result of this progressive simplification is a restructuring of the painting which endows background and colour with overall significance.
Biography

Passionate about drawing from a very early age, Joan Miró was compelled to pursue training as a bookkeeper. After an illness which involved some months of isolation, he then turned to painting and in 1912 enrolled at a Barcelona art school. The anti-academic style of teaching in this establishment enabled him to discover the pioneering figures of modern art such as Cézanne, the Fauves and the Cubists, who had an influence on his first canvases.

From 1918, the date of his first solo exhibition in Barcelona, he embarked on a "détailliste" period, with a series of paintings in which every detail is represented with precision and in a naive style, as in La Ferme (The Farm) (1921-22), which was purchased by Hemingway. His work gradually moved away from this meticulous realism under the influence of the Parisian artistic milieu which he frequented in the course of numerous visits from 1920 on. Introduced by his compatriot Pablo Picasso, Miró met his neighbour André Masson, and through him joined the surrealist group.

The escalating violence in Europe during the 1930s drew him towards more extreme forms of experimentation, culminating in a series of pastels, his "savage pictures". The Spanish civil war compelled him to settle in Paris, then he moved to Normandy, where in 1940 he began the "Constellations" series, which was reproduced in a work introduced by Breton. In 1941, the first retrospective of his work at MOMA in New York made him an established figure.

After the war, a great diversity of works saw the light of day, including ceramics and frescoes, for example the wall panel for UNESCO in Paris in 1958, the 3 Blues series in 1961, vast monochrome surfaces with vigorous interpolations, or else monumental sculptures such as the piece made for the forecourt of La Défense in 1978.

• Visit the Miró Foundation website
René Magritte
Lessines, 1898 - Brussels, 1967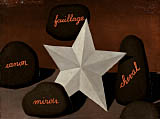 René Magritte, Querelle des universaux, early 1928
Oil on canvas
53.5 x 72.5 cm

This painting is one of the first in the series of "alphabet paintings" or "word paintings" produced by Magritte in the course of his time in Paris from 1927 to 1930. These works form a basis for establishing a new relationship between words and painting, thus disclosing the ambiguity of the connections between real objects, their image and their name. This problem is also tackled by Magritte in "Les mots et les images" (Words and Images), an article published in La Révolution surréaliste in December 1927 and showing a picture comparing linguistic statements with illustrative vignettes. For example, the first sentence tells us that "an object is not so attached to its name that we cannot find another one that would suit it better".
The Querelle des universaux might well illustrate this other statement taken from the article: "sometimes the name of an object stands for an image". Indeed, the words "foliage", "horse", "mirror", "convoy", written on the canvas, replace the image they designate. Placed at the tip of the points of a mysterious star and each inscribed on a brown stain, "any form whatsoever that can replace the image of an object", these words play a full part in the spatial composition of a new fantasy image. This painting undoes the connection that we spontaneously establish between objects, images and words.
Biography

René Magritte was born in the province of Hainaut, in the south of Belgium, and moved to Brussels in 1915, a year after the suicide of his mother, who was found drowned, with a nightdress covering her face. Her memory probably lies behind numerous paintings in which Magritte shows veiled figures. After studies at the Brussels Academy of Fine Arts between 1916 and 1918, he was employed as a designer in a wallpaper factory, and during this time also painted abstract pictures.

In 1925, his discovery of De Chirico's work prompted him to adopt a realist technique to represent everyday objects such as shoes, keys, etc, organised in disconcerting formal relationships and unlikely situations. In 1926, together with the poets Marcel Lecomte, Camille Goemans and E.L.T. Mesens, he founded the Belgian surrealist group, before becoming a member of André Breton's group for three years in Paris.

Back in Brussels in 1931, while having become the leader of Belgium Surrealism, Magritte opened a studio for creative advertising work, something which was not unrelated to the style of his painting. During the war, he moved briefly back to Impressionism, then returned to his classic style and to fresh surrealist subjects. In 1973, Michel Foucault paid tribute to him with his famous essay Ceci n'est pas une pipe (This is not a Pipe).
Salvador Dalí
Figueras, 1904 - Figueras, 1989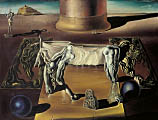 Salvador Dalí, Lion, Cheval, Dormeuse invisibles, 1930
Oil on canvas
50.20 x 65.20 cm

Composed in the spring of 1930, this painting develops for the first time the process of creating double, triple and even multiple images which stemmed from the activity of paranoia criticism which had just been established by Dalí: "recently, through a clearly paranoiac process, I obtained the image of a woman whose position, shadows and morphology are, without in any way altering or deforming her real appearance, simultaneously that of a horse". Through this multiplication of possible images, Dalí aimed to set up an uncertainty over what the image represents, in order then to extend this critical attitude to the whole of reality: "a mental doubt is cast over whether images of reality itself are uniquely a product of our paranoiac faculty".
This painting provokes a calling into question of the unequivocal nature of perception through the metamorphosis of a boat into a woman's body, then a horse, a head of hair that becomes a mane, and the setting of a beach filled with architectural motifs that bring to mind the Modern Style (Art Nouveau) so admired by Dalí.
The painting was exhibited at the Studio 28, the Montmartre arthouse cinema, on the occasion of the first screening of L'Âge d'or, one of the two films Dalí made with Buñuel. It was attacked by a hostile audience, an indication of the scandal aroused by Dalí in the early 1930s.
Biography

A Catalan by birth, in 1921 Salvador Dalí entered the Madrid Academy of Fine Arts, from which he was expelled in 1926 for unruly behaviour. Nonetheless, this background left him with a love of great painting, heightened by his discovery of the artistic avant-gardes, in particular Italian Futurism, Cubism and the work of De Chirico. During this period he moved in anarchist circles and formed a close friendship with the poet Federico Garcia Lorca, who wrote the Ode to Salvador Dalí, and with Luis Buñuel, who was then a student.

He began producing his own work around 1927, for example the canvas titled Le sang est plus doux que le miel (Blood is Sweeter than Honey), which depicts a deserted landscape scattered with strange figures, among them his first dissolving forms. But it was only with the film Un Chien andalou, made with Luis Buñuel in 1929, that he made his mark on the artistic scene and attracted the attention of the Surrealists.

In the summer of 1929, his new friends visited him in Catalonia, bringing with them Helena Diakonova, nicknamed Gala, Dalí's future companion. In that same year he had his first solo exhibition in Paris. In 1930, the scandal caused by the screening of L'Âge d'or began to make him famous. He produced multiple surrealist objects and applied the paranoia criticism method to his painting.

During the war, he stayed in the United States, where he produced illustrations and advertising images, and wrote his autobiography, The Secret Life of Salvador Dalí. He also devised theatre and film sets, the best-known being for Alfred Hitchcock's Spellbound in 1945. He subsequently divided his time between New York, Paris and Port-Lligat, where he had a house in Cadaques, still continuing to make appearances in the course of provocative interventions.

• Gala-Salvador Dali Foundation website
Victor Brauner
(Pietra-Naemtz, Romania, 1903-Paris, 1966)


Victor Brauner, Loup-table (Wolf-Table), 1939-1947
Wood and parts of stuffed fox
54 x 57 x 28.5 cm

Loup-table is a hybrid creature imagined by Victor Brauner in 1939, first as a painting. In fact it appears in two paintings, Fascination and Espace psychologique (Fascination and Psychological Space), and it was made as a three-dimensional object for the 1947 International Surrealist Exhibition in Paris, probably at the request of André Breton.
It constitutes a surrealist object, close to a ready-made with its mass-produced table, but with the stuffed fox introducing an "objet trouvé" (found object), an idea that is specific to Surrealism: this is an object which in itself has an effect on the spectator by virtue of its strong symbolic connotations.
The fur of the Loup-table, a term which itself is reminiscent of the word "redoutable" (fearsome), symbolises warmth and death at one and the same time, which led André Breton to interpret this work as a premonitory sign of the Second World War: "at the time Victor Brauner alone reckoned on the fear, and he did it by means of the table we are familiar with... This period of his work gives us indisputably the most lucid account of that period, alone in its total anxiety about the time that was to come" (Le Surréalisme et la peinture, Surrealism and Painting, 1946).
Biography

Victor Brauner came from a small town in the Carpathians and studied at the School of Fine Arts in Bucharest, from which he was expelled since his works were deemed scandalous. From 1924 until the end of the decade, he was an active participant in the Romanian capital's avant-garde movements, which were close to the spirit of Dadaism, and he contributed to numerous publications. In parallel with these activities, after discovering De Chirico's work on his first trip to Paris, he took up figurative painting, staging scenes with figures of fantastic animals.

In 1930, he settled for good in France, joining his compatriot Constantin Brancusi, through whom he met the Surrealists. André Breton introduced the catalogue to his first Paris exhibition in 1934, which presented canvases suggestive of an Ubu-like world. Victor Brauner also developed the idea of the enucleated eye, which would become interpreted as a premonition when, in 1938, Oscar Dominguez accidentally put his eye out during a fight.

After the war he broke with the surrealist group and aligned himself with Matta (who had himself been excluded by Breton), collaborating with him, chiefly on a number of paintings.

In 1966, France paid him tribute by making him its representative at the Venice Biennale.
Glossary of Surrealism

Exquisite corpse
Exquisite corpse is the most famous of the surrealist games. It began to be played in 1925 and consists in the composition of poems or drawings by a number of pe is then folded so ople, each of them in turn putting down a word or graphic element on a piece of paper, which that the other participants do not see. The outcomes of these procedures offer unexpected juxtapositions, like the sentence "the exquisite corpse will drink the new wine", to which the game owes its name.
Collage
Within Surrealism, the procedure of collage was employed chiefly by Max Ernst. From 1919, Ernst assembled images from a range of varied sources, with the aim of bringing about unexpected juxtapositions. From 1929, he produced collage-novels, series of images constructed from late-19th-century prints or illustrated catalogues and connected together through the simple repetition of visual motifs.
Unlike Cubist collage, whose scope was exclusively that of plastic experimentation, or the highly political photomontages of German Dadaism, surrealist collage suggests new visual, poetic and oneiric associations.
Decalcomania
This technique was first used in an artistic context by Oscar Dominguez in 1936. The artist presses a sheet of white paper over another sheet covered in black poster paint, then repeats the operation, so that the paint stains are transferred several times over. The final image allows the artist to free his or her imagination by interpreting the resulting shapes at will. After Oscar Dominguez, Max Ernst applied the principle of decalcomania to oil painting.
Automatic writing
Inspired by psychoanalysis, and in particular by the poetry of Arthur Rimbaud and Lautréamont, automatic writing consists in writing so fast that rational and preconceived ideas do not have the time to exert any control. The first text produced by this method, Les Champs Magnétiques, in 1919, was composed alternately by André Breton and Philippe Soupault.
Frottage
The pictorial equivalent of automatic writing, the procedure of frottage was discovered by Max Ernst in 1925 in the course of a specific incident. When he was adjusting the rickety floor at an inn where he was staying in Brittany, he decided to take an impression of the wood by rubbing black lead over a piece of paper laid on the floorboards. He then extended this procedure to other textures and published his first collection of frottages, Histoire naturelle, in 1926. He continued these experiments with oil painting.
Fumage
In 1937, the Austrian painter Wolfgang Paalen invented the procedure of fumage: he made drawings outlined by moving a candle flame over a sheet of paper. Later, he applied this technique to oil painting. Thus he prefigured the fire paintings of Yves Klein.
Grattage
Invented by Max Ernst in 1927 as an extension of frottage, grattage was chiefly taken up by Esteban Francès, a painter of Spanish origin, and brought into Surrealism in 1937. This technique consists in scratching superimposed layers of paint in different colours with a razor blade so that shapes emerge that are to varying degrees mottled and transparent.
Surrealist object
After Marcel Duchamp's ready-mades, in the mid 1920s André Breton proposed the construction of "some of those objects we only glimpse in dreams", and "whose fate seems infinitely problematic and disturbing". As with Duchamp, this meant bringing together already existing objects of little value. But unlike him, the Surrealists expected the new object to provoke an emotional reaction, even "a specific sexual feeling" in the words of Salvador Dalí.
The most famous surrealist objects were produced by Alberto Giacometti, Salvador Dalí, Joan Miró, André Breton, Oscar Dominguez and Man Ray.
Paranoia-criticism
Developed by Salvador Dalí in 1929, the paranoia-criticism method consists in a delirious state of interpretation, applied not just to art, but also to reality. Its aim is to go beyond the impoverishment of habitual perceptions, and thereby achieve a distilled grasp of reality.
Rayograph
The rayograph procedure was invented by Man Ray in 1922. It involves producing photographs without a camera, by placing objects on a light-sensitive plate which is then exposed.
Chronology

1922
André Breton breaks with the Dada movement by publishing critical texts in his magazine Littérature, grouping around him a number of poets such as Robert Desnos, René Crevel and Benjamin Peret. They continue the experimentation which Breton and Philippe Soupault had embarked upon in Les Champs magnétiques, a text written by the method of automatic writing and published in 1919. The group called itself the "mouvement flou" (vague or flux movement) until it officially became Surrealism in 1924.
1924
The movement became official in Paris with the publication of the Surrealist Manifesto, a text that André Breton had initially envisaged as the preface to a collection of automatic poems, Poisson soluble (Soluble Fish). It defines Surrealism as "pure psychic automatism whereby one's intention is to express, either verbally or in writing, or in any other way, the real functioning of thought". With this Breton draws out the artistic consequences of psychoanalytic theory, primarily from Freud's interpretation of dreams.
La Révolution surréaliste replaces Littérature and a "Bureau of Surrealist Research" is opened: "its initial aim is to gather together all possible communications relating to the forms which the unconscious activity of the mind is liable to assume".
The painters André Masson and Joan Miró join the movement.
1925
The first exhibition of surrealist painting is opened at the Galerie Pierre in Paris, at midnight on 13 November. It brings together works by Giorgio De Chirico, Hans Arp, Max Ernst, Paul Klee, Man Ray, André Masson, Joan Miró, Picasso and Pierre Roy.
Max Ernst engages on his first frottages.
The first experiments are made with "exquisite corpse", an expression of poly-vocal thinking.
Louis Aragon publishes Le Paysan de Paris (Paris Peasant).
In Brussels, a group formed by the writers Paul Nougé and E.L.T. Mesens, around the magazine Correspondance, aligns itself with the French surrealists. The Belgian painter René Magritte produces his first surrealist works and becomes the leader of this Belgian Surrealism.
1926
André Masson produces his first pictures "made almost exclusively of pasted sand" which emphasise matter and chance.
In Paris in March, Jacques Trual and André Breton open the Surrealist Gallery with the exhibition Pictures by Man Ray and Objects from the Islands (of Oceania) which for the first time establishes a link between surrealist creativity and primitive works of art. The newspapers are scadalised by what they regard as the indecency of an Oceanian statue chosen by Man Ray for display in the gallery window and the cover of the catalogue.
1927
In January, André Breton joins the Communist Party.
In June, the first solo exhibition of the painter Yves Tanguy is organised at the Surrealist Gallery. His paintings, which are indebted to the universe of Giorgio De Chirico, show a world which seems to float between the underwater and earthly domains.
André Breton writes Nadja, the portrait of a young woman with whom he was in love, and who sank into madness. The work ends with the now famous statement: "Beauty will be CONVULSIVE or it shall not be".
1928
In February, Surrealism and Painting is published, a collection of articles by André Breton on Picasso, Giorgio De Chirico, Max Ernst, Man Ray, André Masson...
Salvador Dalí and Luis Buñuel make the film Un chien andalou, thanks to the patronage of Marie-Laure and Charles de Noailles, who during the same period also finance another now famous surrealist film, Jean Cocteau's Le Sang d'un poète.
1929
n February, André Breton sends out a letter to individuals involved inSurrealism asking them to assess "their degree of moral competence", which puts him at odds with Bataille, Leiris and Masson. This initiative culminates in the theoretical refinements which give shape to the Second Manifesto of Surrealism, published in December.
Max Ernst produces his first collage-novel: Perturbation, ma soeur, la femme 100 têtes. By using old engravings from popular imagery, Max Ernst shows a dream world at the whim of the unconscious.
Salvador Dalí's first Paris exhibition is held at the Galerie Goemans from 20 November to 5 December. His work extends an invitation to practice paranoia-criticism, a method for grasping reality while doubting the unequivocal nature of its meanings.
1930
As a retort to the Second Manifesto, in January Georges Bataille publishes a tract titled Un cadavre, in which he denounces what he regards as André Breton's moralising principles. The principal co-signatories of the tract are Michel Leiris, Robert Desnos, Raymond Queneau and Jacques Prévert.
The first issue of Surréalisme au Service de la Révolution (Surrealism in the Service of the Revolution) appears in July, replacing La Révolution surréaliste - its new title suggested by Louis Aragon.
In December, Dalí and Buñuel's second film, L'Âge d'or, is screened at the Montmartre cinema, Studio 28. Members of the League of Patriots and the Anti-Jewish League wreck the cinema.
1931
The surrealist artists are exhibited for the first time in the US, at Hartford (Connecticut). This event brings together works by Salvador Dalí, Giorgio De Chirico, Max Ernst, André Masson, Joan Miró, Picasso and Pierre Roy.
Alberto Giacometti produces his first sculpture-objects, "mobile and mute objects" made of organic forms that can be set in motion.
1932
In November, André Breton publishes Les Vases communicants (The Communicating Vessels), a work that aims to establish the existence of close connections between dreams and the waking state. In it he critiques Salvador Dalí's "symbolically functioning objects" which he considers to be over reductive of desire. He sends a copy to Freud.
1933
Albert Skira publishes the surrealist review Minotaure (1933-1938) whose first issue is devoted to Picasso.
1934
At the Musee Royal in Brussels, the Belgian Surrealists organise the first large-scale exhibition of surrealist works from all over Europe. This too has the title Minotaure.
The German artist Hans Bellmer joins the Surrealist movement with the publication in issue 6 of the review Minotaure (December 1934) of photographs showing one of his surrealist objects, The Doll.
1935
Alberto Giacometti is excluded from the group. He impugns his surrealist work and announces his wish to go back to working "from life".
In November, the first Paris exhibition of the artist Victor Brauner is organised at the Galerie Pierre.
1936
In Paris, in May, an exhibition of surrealist objects at the Galerie Charles Ratton brings together for the first time natural objects, found objects and objects constructed by surrealist artists.
The International Surrealist Exhibition is organised in London by the art historian Herbert Read, with an introduction by André Breton.
In December, MOMA in New York shows the exhibition Fantastic Art, Dada and Surrealism.
1937
André Breton becomes editor-in-chief of the review Minotaure.
He publishes L'Amour fou.
1938
A new International Surrealist Exhibition is held at the Beaux-arts Gallery, Paris, with the involvement of Marcel Duchamp as its designer. This exhibition brings together more than 60 artists from different countries, showing around 300 paintings, objects, collages, photographs and installations.
1939
Salvador Dalí is excluded from the group.
The war scatters the Surrealists, of whom a large number seek exile in the United States; the model they represent will be decisive for the nascent artistic movements and those to come, such as Abstract Expressionism, Neo-Dadaism and Pop Art.
Bibliography

You can consult in the French version

of the dossier on Surrealist Art
- extracts from reference texts: "La glace sans tain", Les Champs magnétiques, by André Breton and Philippe Soupault; the Definition of Surrealism in André Breton, Manifeste du Surréalisme; a poem by Joan Miró, November 1936, quoted in Joan Miró, Fondation Pierre Gianadda, Martigny, 1997, p. 14,
- a selective bibliography: essays on Surrealism, exhibition catalogues, artists' writings, filmography.
Links
- Educational dossier in English:
The Object in 20th-century Art


- Educational dossier in French:
Luis Buñuel: Un chien andalou - l'Âge d'or


La Révolution surréaliste (March 6 - June 24, 2002, Pompidou Centre)


- To see all the works of these artists belonging to the Museum's collections

To consult the other dossiers on the collections of the National Museum of Modern Art
In French


In English




Contacts
So that we can provide a service that meets with your requirements, we would like to have your reactions and suggestions regarding this document.
Contact: centre.ressources@centrepompidou.fr
Credits
© Centre Pompidou, Direction de l'action éducative et des publics, April 2005
Update : August 2007
Development : Florence Morat
Documentation, Editing : Vanessa Morisset
Translated by Liz Heron
Graphic Design : Michel Fernandez, Aleth Vinchon
Coordination : Marie-José Rodriguez